Dateline:
Wednesday 23 August 2023
GET YOUR TICKETS HERE …
Go to Brown Paper Tickets - our on-line box office.
Tickets for EFC gigs up to late November 2023 are, or will be very soon, available on our online box office at Brown Paper Tickets.
(We try to provide advance tickets up to (approximately) two months ahead so if you find a box office link unavailable it just means we haven't got round to that gig yet).
We always recommend buying in advance since, if a show sells out (and they do), we cannot push the walls of the venue back to accommodate additional seats!
---
CARRYING STREAM FESTIVAL
SATURDAY 11 NOVEMBER 2023
We've booked the theatre again at the Scottish Storytelling Centre in Edinburgh's HIgh Street for the annual Carrying Stream Festival lecture - on Saturday (lunchtime) 11 November 2023. We'll keep you informed - go HERE.
---------------------------------------------------------
Go HERE for lots of general info about Edinburgh FC - getting there, pitching for a gig etc.
LATE SUMMER/AUTUMN 2023
Unless stated otherwise
all gigs start at 8pm
Doors/bar from 7:30pm
SEPTEMBER 2023
13   Annual General Meeting (at Ukrainian Community Centre) … 8pm
20   Tim Edey and Ross Ainslie
27   Saije (Australia)

OCTOBER 2023
  4   50th anniversary supper - special guest Robin Laing
Please note doors/bar open from 7pm. 
Celebrations from 7:30pm (sit-down supper, two courses).
11   Andy Irvine
18  Josie Duncan
25  Firelight Trio

NOVEMBER 2023
  1  Reg Meuross
  8  Iona Fyfe
Sat 11  from 12 noon-2pm: Annual Hamish Henderson lecture at Scottish Storytelling Centre
15  Open Mic / Singers night
22  The Cast
29  Jenn Butterworth and Laura-Beth Salter

DECEMBER
  6  John Kirkpatrick
13  North Sea Gas
… and to follow in the New Year from Wed 10 Jan performers including Brog, Adam Holmes, Martin Wyndham-Read, Archie Fisher, Bob Fox, Malinky, Ed Miller, Allan Taylor, Tony McManus and Joanna Toaspern, Alastair MacDonald, Findlay Napier, Tom McConville, Alastair Savage and more.
---
ACCESSIBILITY at our current venue, the Ukrainian Community Centre - and much more information about Edinburgh FC - can be found here.
---
For information about Edinburgh FC gigs not obtainable elsewhere call m: +44(0)7968 131737
---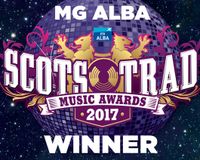 EDINBURGH FOLK CLUB
CLUB OF THE YEAR 2017
It is believed that Edinburgh FC has the unique distinction in the UK of receiving the above award as well as being awarded Folk Club Of The Year in the BBC Radio Two Folk Awards 2003. No other folk club in the UK has achieved "The Double".